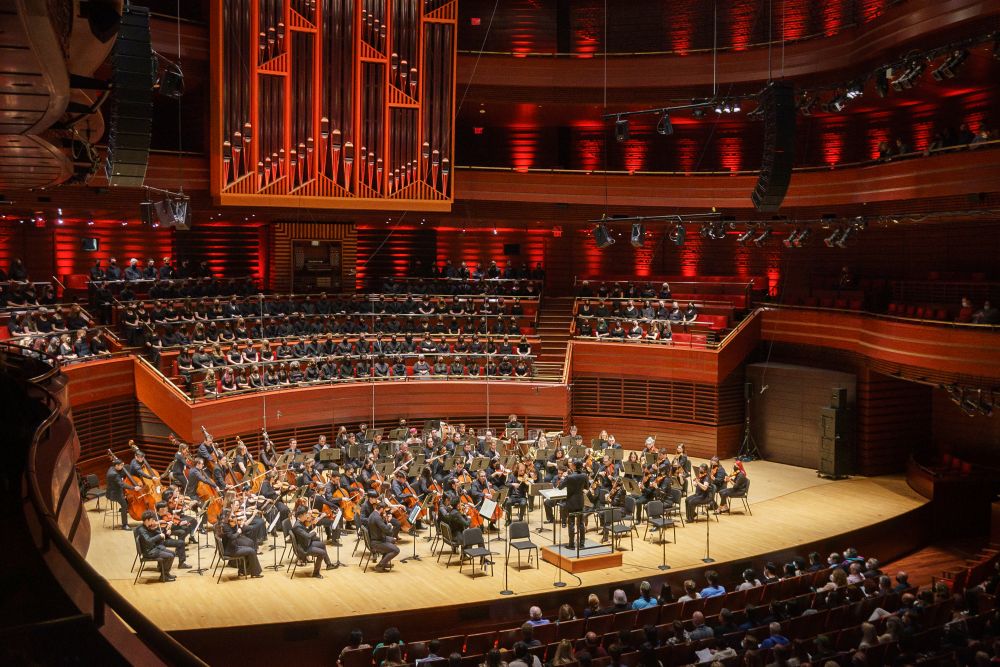 Photo credit: Jessica Griffin
Temple University Symphony Orchestra, Studio Orchestra and Choirs
Paul Rardin and José Luis Domínguez, conductors
Kimmika Williams-Witherspoon, narrator
Karen Slack, soprano
Joshua Blue, tenor
Penelope Spencer, youth soprano
Terell Stafford, trumpet
Dick Oatts, saxophone
Honoring Joslyn Ewart with the Boyer College of Music and Dance Tribute Award for her passionate support for the performing arts and enduring dedication to music education. 
Friday, March 31, 2023 at 7:30 p.m.
Verizon Hall, Kimmel Cultural Campus
Broad and Spruce Streets, Philadelphia, PA
About the Program
Done Made My Vow (1985, text rev. 2012) by Adolphus Hailstork (b. 1941)
Discovering the treasure trove of musical works by Dr. Adolphus Hailstork, postmodern composer, pianist and conductor, is a stunning revelation not only for the quality of his work but also because it was not widely known for a number of decades. Anyone paying close attention, however, to the 2021 inauguration ceremony for President Joe Biden and Vice President Kamala Harris may have registered his name and an impression of the music: on that occasion, Hailstork's "Fanfare on Amazing Grace" was selected and performed by the United States Marine Band. His extremely productive career – he is now 81 years old – spans five decades and more than 250 works written for almost any combination of musical ensemble or genre imaginable: symphonies, operas, cantatas, concertos, chamber music, art songs, instrumental solo pieces and more. His compositions have been performed by several major orchestras with eminent conductors such as Maazel and Barenboim and by numerous other musicians, both professional and amateur. 
A native of upstate New York, Hailstork earned degrees in composition from Howard University, the Manhattan School of Music and Michigan State University. For nine weeks in the summer of 1963, he undertook a course of study with famed composer and pedagogue Nadia Boulanger at Fontainebleau, an experience that he treasures: "That was a very stunning summer at Fontainebleau; …The quality of musical skill was higher than anything I ever experienced, before or since. [We used] Paul Hindemith's Elementary Training for Musicians. We had to sing and tap and play the piano all at the same time… it was basic training for a composer. And being able to read in clefs and memorize Bach fugues – I remember we'd sit outside at cafés at night and go through, I think it was the B Minor Prelude from The Well-Tempered Klavier (I don't remember which book), and we'd be singing it in solfege after hours. It was a fantastic experience."
 
One of Hailstork's most prescient remarks, among many others, is the observation that "we almost killed music 50-60 years ago as a group experience." Fittingly, he revered the works of Samuel Barber and Aaron Copland and did not submit to the avant-garde compositional trends of the 20th century (such as dodecaphonic serialism, which he calls "plink, plank, plunk, count to 12"), explaining that his early experiences as a boy chorister in the Episcopal church, when he also studied violin, piano, organ and voice, had a great influence on him: "I came up in an Episcopal cathedral, singing as a boy chorister. And then I noticed that some of my choices in my writing reflect the acoustics and the style of music that I sang as a youngster – some of the great English composers – and that influenced me." He explains why, as a young composer, music featuring African American concerns and traditions was not pursued by him. "Howard University, when I went there, was not a powder keg of Black expression, at least in music. And if you were caught playing gospel in the practice rooms, you could get in trouble." 
But upon leaving the army in 1968, Hailstork found he could not ignore the big political issues that seemed to be ripping the United States apart, among them racial inequality. He began to incorporate the Zeitgeist of 1968, a year that featured numerous anti-Vietnam War demonstrations and two major political assassinations (Dr. Martin Luther King Jr. and Robert F. Kennedy) into his music. "I didn't grow up with a duality in my thinking, I was assimilated early on by the Euro-American tradition. And then, all of a sudden, we had this big cultural explosion of separation in the 60s and I had not experienced any of that. And I said, 'Well, wait a minute, do I turn my back on that or do I try to contribute to it?' And when I got my job at Norfolk State University, which is a historically Black university (where he taught from 1977–2000), I was definitely immersed in it." In some of his subsequent compositions, he has focused on the African American experience in the United States, which, sadly, seems to be connected with death and tragic events, in others on his Episcopal choral training. What has yielded the most fruit, however, are the works in which he amalgamates the two sources. Today's piece, Done Made my Vow, is a good example of this amalgamation. Hailstork himself is of African American, Native American and European ancestry. 
Especially after studying Afro-American spirituals, which he loves and considers truly "American" music ("I do worship the spirituals. They're gorgeous melodies and they're very useful. I believe in the old statement by Dvořák that an American art music could be based on using African American materials or Indian materials also"), one of his goals became "to capture or reflect the tribulations and the occasional triumphs of African Americans in this country." Some of his most notable compositions along these lines include Epitaph for a Man who Dreamed, written more than a decade after Dr. King's assassination, with a desire that were there to be a King memorial holiday, "I'd like to have a piece available for performance appropriate for that day, so I wrote it"; three operas, Joshua's Boots, Paul Laurence Dunbar: Common Ground, and Rise for Freedom: The John P. Parker, a work about the Underground Railroad, premiered in 2007 by the Cincinnati Opera Company; American Guernica in remembrance of the September 15, 1963, bombing of the 16th Street Baptist Church in Birmingham, Alabama; Zora, We're Calling You, from 2011, a work for speaker and orchestra hailing the literary works of Zora Neale Hurston, premiered by the Orlando Symphony; Paul Robeson, The Opera, 2013, commissioned and premiered by Trilogy, a New Jersey-based company; Still Holding On, commissioned and performed by the Los Angeles Philharmonic in February 2019, honoring "the dean of African American composers," William Grant Still; A Knee on the Neck, a requiem cantata written in commemoration of George Floyd's murder and premiered in 2021; on the first Juneteenth that was an official U.S. national holiday, J'Nai Bridges and the Harlem Chamber Players gave the world premiere performance of his concert aria Tulsa 1921 ("Pity These Ashes, Pity This Dust"), marking the centenary of the Tulsa Race Massacre, one of the low points in the American story, and one that was never alluded to when I was in school.
Hailstork explains that the purpose of these compositions, many inspired by shocking events involving African Americans that reflect nadirs in the American history of racism, is a "[d]etermination to make a better culture. We're such a violent kind of insane culture right now. When I grew up, I didn't think it was going to be this way… But this constant shooting each other – I mean, every day, there's a shooting and when we start killing our school children…I think we're having a rough time right now." Hailstork believes that music with a subject will inspire listeners to think about both the music and the issues involved. "I'm gonna have no interest in lulling people to sleep [with my music]." Many of his works have a text and tell or retell a story. "And so, [listeners] need to think about the [event the music is portraying] a little bit. 'Art for art's sake' or 'music for music's sake' only, it's never been a big thing for me; …I'm a concert composer, which means you have to grab their attention, keep their attention and provide an ultimate goal that made it worth their while to sit there." When asked about hope for the future of classical music and what aspects could be improved, he replied, "Well, something happening now, which I hope will continue on, is that orchestras and opera companies and chamber groups are rethinking their repertoire and trying to be more inclusive of lesser-known composers and performers. That's what I hope will continue."
Done Made my Vow, which Hailstork categorizes as "a big cantata about African American history," is originally scored for speaker, soprano, tenor and boy soprano soloists, large mixed chorus and orchestra. Some critics have intimated that the word "masterpiece" is not too strong an accolade for this composition. Of paramount importance to the work is the employment of a large mixed chorus. Hailstork delights in writing choral music: "Choral music is so rich. It is my favorite medium." Done Made my Vow is, not at all surprisngly, constructed in the manner of a church service and features a text by the composer that includes passages from the Bible and the speeches of Martin Luther King Jr., among others. Musically, Hailstork draws upon both sacred and secular traditions of African American music, but also shows his deep understanding and mastery of Western art music composition in the complex use of counterpoint. 
Hailstork has received the Composers Now 2023 Vision Award. Previous accolades include, among many others, the 1971 Ernest Bloch Award for Choral Composition, the Brock Commission from the American Choral Directors Association and the 2001 Honorary Doctorate from the College of Willam and Mary. 
Note by Stephen A. Willier, Associate Professor of Music History (ret.), Boyer College of Music and Dance, Temple University 
 
Labyrinth (2023) by Billy Childs (b. 1957)
Labyrinth, a piece for big band, rhythm section and orchestra, was composed as a feature for Terell Stafford (trumpet) and Dick Oatts (alto saxophone). It is so titled because I was hoping to create a maze-like sense of imbalance through constantly shifting meters. I wanted the piece to start out feeling like it is in a triple meter (6/8 in this case), but actually being in multiple meters (6/8, 5/8, 2/4, and 9/8 in various configurations), thereby giving the listener, hopefully, a feeling of unpredictability while maintaining a logical continuum. So, the rhythm section starts out with this asymmetrically metered groove, with various chordal punctuations from the orchestra and big band. Terell and Dick then enter with a trumpet and alto sax melody that begins with a quartal phrase and is then followed by other melodic material – these melodic fragments are used later in shout choruses and tutti passages as a means to develop the piece. 
A special challenge for me was to make big band, symphonic orchestra and small group with soloists congeal into an organic whole, from a sonic and orchestrational standpoint. So, in my mind, the big band took on the role of the symphonic brass and woodwind sections – at least in certain sections, like tutti passages, usually, where a lot of counterpoint and density was going on. I also included French horns, flutes and clarinets from the symphonic world because these instruments are very versatile sonically and blend well with other instruments. 
Structurally, the piece is basically in two parts: the labyrinthine first part with the shifting meters, the trumpet solo section in 6/8 and the contrapuntal tutti section; and a slower, ballad-like section, which features the alto saxophone (later joined by the trumpet). This section ends with an intense build-up solo duet with trumpet and alto sax soloing together. This leads into a drum solo in 6/8, which then brings us back to the original "labyrinthine" opening section. 
I want to offer a heartfelt thanks to Terell Stafford, Dick Oatts and Temple University for the honor of being commissioned to compose this piece. 
Note by the composer, Billy Childs 
Suite from The Firebird (1919 version) by Igor Stravinsky (1882-1971)
Premiered in Paris in 1910, The Firebird was the first of the troika of grand ballets Stravinsky wrote for Sergei Diaghilev's Ballets russes. It was followed by Petrushka, based on a puppet who is a Russian version of the sad clown from Commedia dell'arte, Pierrot, and by the infamous Rite of Spring, subtitled "Pictures of Pagan Russia." The Firebird is based on a Russian fairytale and thus all three ballets are Russian in subject matter and in spirit. Stravinsky had come to Paris in 1910 after being "discovered" in St. Petersburg by Diaghilev, who was exporting all things Russian to Paris – paintings, operas, ballets, famous dancers such as Vaslav Nijinsky – creating a craze for such things there. In writing these three big colorful orchestral scores, Stravinsky was following in the footsteps of his teacher, Nicolai Rimsky-Korsakov, a notable orchestral colorist. And while Stravinsky was enjoying a taste of personal freedom from a difficult family situation while in Paris, he might also have been experiencing a bit of homesickness and nostalgia. Soon he was to be cut off from his native land by World War One and then the Russian Revolution. 
The story of The Firebird is as follows: Prince Ivan wanders in a dark, enchanted forest, where he beholds a marvelous bird, whose feathers are plumes of fire, eating golden fruit from a silver tree. The Prince tries to catch the Firebird, but succeeds only in plucking one flame from her coat. The Prince then wanders farther into the forest until he reaches the domain of the demon Kastchei the Deathless, so called because his life does not reside in his body but in an egg hidden in his castle. There, Prince Ivan beholds the grave dance of a bevy of princesses held in a trance-like spell through the demon's power. The presence of the Prince is made known to Kastchei through the sounding of a carillon. Demons surround the young man with murderous intent but the flame from the Firebird's coat protects him, and the Firebird herself appears at the height of the battle to assist him and puts Kastchei to sleep to the famous music of the Berceuse (lullaby). The Firebird leads Prince Ivan to the egg hidden in the castle. He breaks this symbol of Kastchei's life. The castle and the demons disappear, the princesses are released from their spell, the Firebird stands revealed as the most beautiful princess of all, and wedding bells are sounded. 
In addition to the complete 50-minute ballet score of 1909–10, which is scored for a huge orchestra, including quadruple woodwind and three harps, plus a piano, Stravinsky fashioned three shorter suites for concert performance by a smaller orchestra, dating from 1911, 1919 and 1945. The 1919 suite is the most well-known and often played and will be heard on tonight's concert. There is no standard version for the naming of the movements from the suites. Various performances, live and recorded, follow different title conventions; some even avoid direct reference to the tale by just calling the movements by their tempo markings (e.g., Adagio or Allegro) or by musical form (e.g., Scherzo or Rondo). Stravinsky had a number of insightful comments and anecdotes about The Firebird. In speaking of his innovative orchestral sonorities, he wrote: 
For me, the most striking effect in The Firebird was the natural-harmonic string glissando near the beginning, which the bass chord touches off like a Catherine wheel. I was delighted to have discovered this, and I remember my excitement in demonstrating it to Rimsky's violinist and cellist sons. I remember, too, Richard Strauss's astonishment when he heard it two years later in Berlin. 
Of the work's inception, he reveals that: 
The Firebird did not attract me as a subject. Like all story ballets, it demanded descriptive music of a kind I did not want to write. I had not yet proved myself as a composer, and I had not earned the right to criticize the aesthetics of my collaborators, but I did criticize them, and arrogantly, though perhaps my age (27) was more arrogant than I was. Above all, I could not abide the assumption that my music would be imitation Rimsky-Korsakov, especially as by that time I was in such revolt against poor Rimsky. However, if I say I was less than eager to fulfill the commission, I know that, in truth, my reservations about the subject were also an advance defense for my not being sure I could. But Diaghilev, the diplomat, arranged everything. He came to call on me one day, with Fokine, Nijinsky, Bakst and Benois [the illustrious collaborators]. When the five of them had proclaimed their belief in my talent, I began to believe, too, and accepted. 
Note by Stephen A. Willier, Associate Professor of Music History (ret.), Boyer College of Music and Dance, Temple University