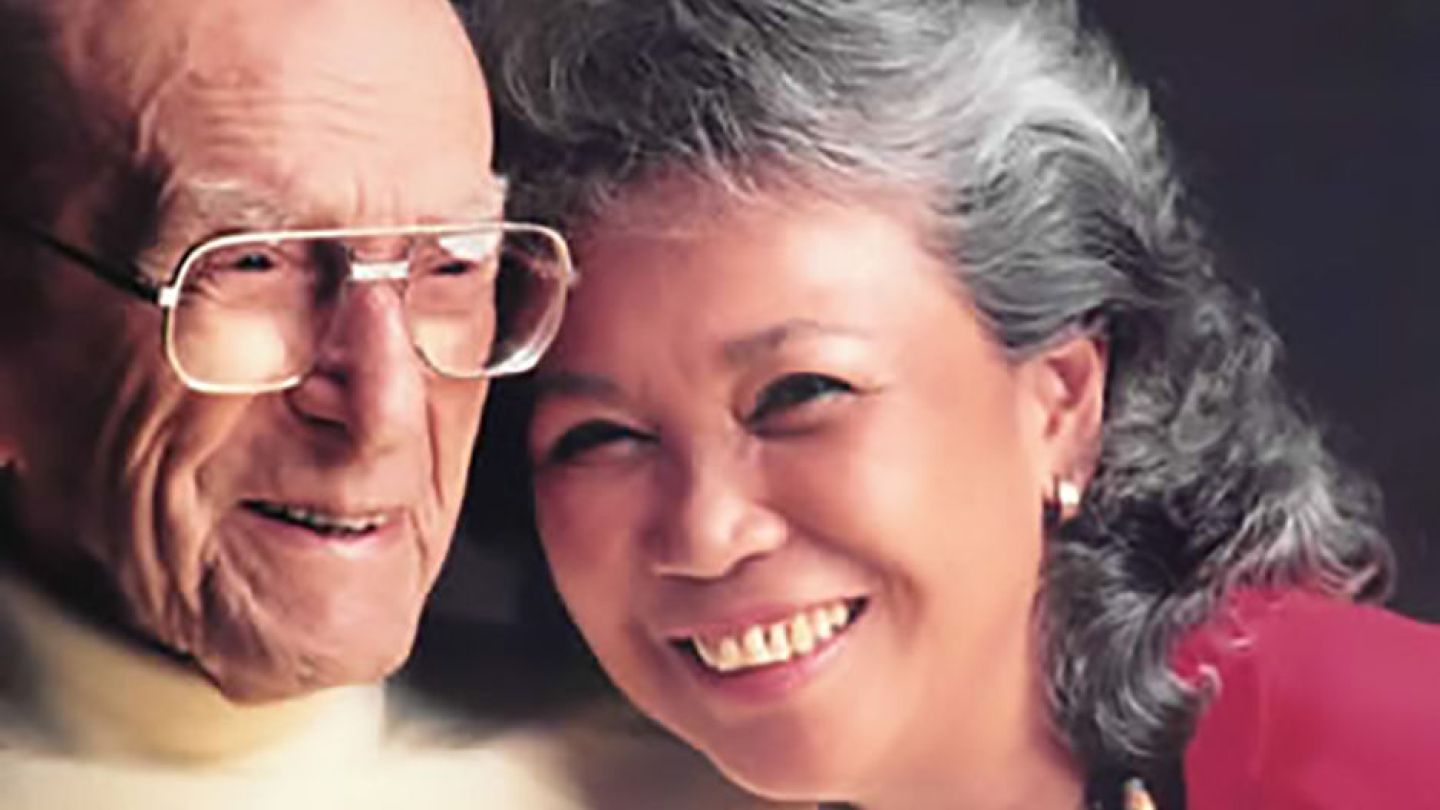 It is with deep sadness we relate that one of our most luminous shining stars, Joy Valderrama Abbott (EDU '52), passed away this past weekend, Saturday, February 8th, 2020 at the age of 88.
Joy was truly a legend of musical theater, an ebullient presence with a zeal for life and passion for the arts. Her caring and enthusiasm was beyond measure, living a vital life full of kindness and an honest appreciation for the needs of others. In addition, she was known for fostering and curating of the legacy of her late husband, musical theater innovator, George Abbott. She will be fondly remembered and her memory cherished by so many. 
One of Hawaii's most distinguished singing daughters, Joy earned her undergraduate degree from Temple University and was a graduate student at the University of Pennsylvania. Prior to her marriage to the legendary Broadway playwright and director George Abbott, she enjoyed success as a performer, business woman and coordinator-director of musical fashion productions.
In past years she wrote and directed several celebrity theater benefits. Mrs. Abbott was a patron of the American Theater Wing and the Society of Stage Directors and Choreographers, who sponsor an annual Mr. Abbott Award; she was also the former chairman of the Theater Hall of Fame and a founder of the Hawaii Performing Arts Foundation. In Florida, she directed the plays "Summer Shorts" and "Mr. Abbott, A Broadway Legacy," which she co-created for Florida Stage, and which earned her a Carbonell Award nomination.
Joy met George Abbott in the late 1950s and the two dated for 25 years before they married in 1983. George was already a Tony Award-winning writer and director when they first met, and the two lived a happy and active life. George passed in 1995, and in 2007 Joy Abbott bequeathed her ownership share of rights and future royalties earned by theater productions authored by George Abbott - which include famous titles such as "The Pajama Game", "Damn Yankees", "On Your Toes" and "The Boys From Syracuse" - as well as other selected memorabilia to the Boyer College of Music and Dance. The bequest, valued at the time at a minimum of $6 million, was to serve as the lead gift in establishing the "George and Joy Abbott Center for Musical Theater," at Temple ensuring that George's legacy was preserved in a way that would benefit future generations.
Under the auspices of the George and Joy Abbott Center for Musical Theater, Temple students have had opportunities to interact with numerous Broadway luminaries such as Jonathan Groff, Chad Beguelin, Barbara Cook, David Garrison, Mark Kudisch, Baayork Lee, Kenny Leon, John McDaniel, Marcia Milgrom-Dodge, Melba Moore, Hugh Panaro, Benj Pasek & Justin Paul and Lauren Worsham. Additionally, the Abbott Center has supported productions of Damn Yankees, The Boys From Syracuse (concert version), Oklahoma!, Hair, Brigadoon, Anything Goes, Hairspray, She Loves Me (concert version), Guys and Dolls, Chicago (concert version), Side Show, Sunday in the Park with George and Sweet Charity. 
With the momentum from Joy's munificent gift, the BA concentration in Musical Theater has blossomed into a full BFA in Musical Theater, providing rigorous training in acting, singing and dancing to launch students immediately into successful stage careers. 
A one-year MA in Musical Theater Studies was introduced in 2016 to prepare graduates for commercial, nonprofit or educational positions in the musical theater industry, and the first cohort of students in the Abbott MFA in Musical Theater Collaboration, a program that is unique to Temple, began their studies in 2018. The groundbreaking Abbott MFA program honors and celebrates the creative prowess of legendary director, author, producer and mentor George Abbott by focusing on the rich collaborations that were a hallmark of his career.
An upcoming concert event that was initially planned to feature Joy will go on in her memory with showings on March 14th & 15th at the Temple Performing Arts Center. The concert will highlight the work of her late husband and present Temple's Musical Theater students whose development was made possible by Joy's support.
Below we have posted Ms. Abbott's obituary with more about the deeply important legacy of this wonderful spirit. She will be truly missed and we wish love and support to her family and friends. Our only solace may be that remembrances of her positivity and characteristic spark shall continually evoke a feeling of happiness and peace for everyone who was touched by her.
Joy Abbott's Wonderful Life Draws to a Close at 88 
BY CHRISTINE DOLEN
As an ebullient young singer-dancer-entertainer, she was dubbed "the Shirley Temple of Hawaii." Her first name - a perfect pairing of name and nature - was given to her by her father, who later told her that instead of crying when she was born, she smiled.
Joy Valderrama Abbott, whose fairy-tale life took her from the small town of Wahiawa near Honolulu to Broadway's most glamorous circles alongside her legendary husband George Abbott, died at her home on Miami Beach's Sunset Island II at 11 p.m. Feb. 8. She was 88 and had been battling cancer since being diagnosed six months earlier.
Abbott was born June 24, 1931, the second of Pedro and Justina de Guzman Valderrama's four daughters. After relocating to Hawaii from the Philippines, her father became a barber with a shop at Wahiawa's Schofield Barracks, and her mother, a former teacher, was a housewife who channeled her love of all things showbiz into her girls, particularly her second eldest daughter, who danced and sang in a well-known revue at the age of six.
The values her parents instilled - getting a great education, setting goals, working hard, rejecting envy - served Abbott and her sisters all their lives.
"…what they couldn't do, they thought they'd give us the opportunity to do. And it came to fruition," she told host Leslie Wilcox in a 2013 interview on the PBS Hawaii program "Long Story Short."
In Hawaii, Abbott attended Honolulu's prestigious private Punahou School, graduating in 1948. During her time at the place that would become future president Barack Obama's alma mater, she swam, played field hockey, did gymnastics and, most significantly, under her father's coaching developed a killer tennis game that led to her winning the Hawaiian Junior Championship.
Leaving Hawaii, then a United States territory, to go to Philadelphia's Temple University as an international student, Abbott earned her bachelor of science degree in physical education in 1952. As captain of the tennis team, she was undefeated in singles and doubles during her years at Temple, which inducted her into its Sports Hall of Fame in 1978. She was also a cheerleader, sang in a choir and acted in Maxwell Anderson's "The Wingless Victory."
In order to help put her younger sisters through school, she began performing under her Hawaiian name Moana as the lead dancer in a revue at a restaurant-night club called the Hawaiian Cottage in Cherry Hill, New Jersey. During two decades of performing and polishing her craft there, she began singing too, not just Hawaiian songs but also jazz and show tunes. 
The latter foreshadowed one of the most remarkable chapters in her life: Her courtship by and marriage to George Abbott, who was born June 25, 1887 - one day short of being exactly 44 years older than she was.
The two met when his musical "Fiorello!," which would later win Abbott, coauthor Jerome Weidman, lyricist Sheldon Harnick and composer Jerry Bock the Pulitzer Prize for drama, was trying out in Philadelphia in 1959. A friend was ushering for the show, and soon the 29-year-old Joy Valderrama was invited to a gathering at the famous 72-year-old producer-playwright-director's home on Fifth Avenue in Manhattan.
Abbott recalled her arrival at his place in her interview with Wilcox.
"I was invited at seven o'clock, so I came and I rang the bell…He opened the door himself, and I saw this tall man with silver hair and these steel blue eyes," she said, comparing her future husband's looks to those of handsome actors Gary Cooper and Randolph Scott. "I said, 'I'm Joy Valderrama.' And he said, 'Good, you're on time.' 'Cause he was a stickler for time. And so, from then on, we just hit it off, and we dated for [24] years before we got married."
Although they would get together in New York, Miami Beach, Philadelphia and at Abbott's summer retreat at Merriewold in the Catskills, where his neighbors included choreographer Agnes de Mille and "Once Upon a Mattress" composer Mary Rodgers, she remained in the Philadelphia area. 
Backed by her beau, she opened a boutique called Moana's at the Cherry Hill Mall, the first of several locations, then created musical fashion shows to spotlight and help sell the clothing. She also partnered in the ready-to-wear business with furrier Jerry Mirrow.
After she was by George Abbott's side in 1982 when his extraordinary career was celebrated with one of the Kennedy Center Honors, she was with him as he directed the 1983 Broadway revival of "On Your Toes," a musical whose book he authored in 1936. 
He proposed by telling her, "My lawyer tells me I have enough money for two to live on." When they married on Nov. 21, 1983, he was 96, she was 52; later the same day, when George Abbott's granddaughter Susannah Clark gave birth to her eldest daughter, the new bride instantly became a great-grandmother.
Amy Davidson, George Abbott's other granddaughter, said of her glamorous step-grandmother, "She extended his life by a decade. I never heard a complaint about giving up some of her freedom to be tethered to him."
Added Clark, "She took care of him. She loved their life, and she adored Grandpa."
During their marriage, which lasted until George Abbott's death at their Miami Beach home at the age of 107, she took care of her famous husband in multiple ways. The Abbotts were frequent opening-night theatergoers when touring Broadway shows opened at Miami Beach's Jackie Gleason Theater and at the Broward Center in Fort Lauderdale. They would dine and socialize at Indian Creek Country Club, where she took up golf just to keep him company but later, thanks to her undiminished competitive drive, won tournament after tournament - something that continued even after she had two hip replacements, a knee replacement and a shoulder replacement.
Their interactions and his dry humor became the stuff of her stories.
Once, when he was playing golf at 96, he bent over to pick up a tee and collapsed. Joy rushed over to him, put his head in her lap and said, "Oh, George, do you just want to lay here?" Ever the grammarian, he looked up at her and said, "Lie here." 
When he was 106 and far more fragile, they put in a pool so he could more easily get exercise. Once it was ready after long construction delays, she helped him in, but because he had so little body fat, he sank. After she helped him out again, he said, "Joy, get your money back. It doesn't work." 
When he got a pacemaker put in at 96 and was told that the battery would need to be replaced in 10 years, he said to her, "You mean I'll have to go through the surgery again when I'm 106?" And that's exactly what happened.
Among the moments she loved best were the ones in which Broadway celebrated a man whose career began in 1913, a multiple Tony Award winner who was always called "Mr. Abbott" as a sign of profound respect. 
She was with him, glowing, as he got a standing ovation when he was helped down the aisle at the Marquis Theatre on opening night of the 1994 "Damn Yankees" revival. There were several 100th birthday bashes for him, one hosted by the great Harold "Hal" Prince, who had launched his career working with Abbott, and Jose Ferrer, who had worked for him. And when famous Abbott alumni such as Carol Burnett, Shirley MacLaine, Carol Channing and others would come through town, the Abbotts would attend their shows and appearances or take them to dine at Indian Creek.
In the 25 years since George Abbott's passing, his vibrant widow focused on reinforcing his legacy and continued to embrace her three passions: singing, sports and style.
Making a bequest of her share of the royalties from her late husband's shows, she established the George and Joy Abbott Center for Musical Theater at Temple University's School of Theater, Film and Media Arts, which honored her with its inaugural tribute award in 2014.
Dean Robert Stroker said after her passing that what she gave to the university and to him transcended her monetary gift.
"At Temple, she inspired and mentored the future generation of theater artists, through working with them and through the opportunities the George and Joy Abbott Center presented," he said. "She inspired and mentored me in life in general, to really enjoy life and to find joy in everything. She brought so much life, joy and beauty into being with anybody."
With her longtime friend and fellow Punahou alumna Betty Loo[CQ] Taylor, she recorded an album titled "For All We Know" in 2007, winning Hawaii's Na Hoku Hanohano Award for jazz album of the year.
She also maintained a presence in the New York theater community, serving as chairperson of the Theater Hall of Fame for a number of years, attending and speaking at the annual Mr. Abbott Award gala presented by the Stage Directors and Choreographers Foundation, becoming a patron of the American Theatre Wing.
Abbott also resumed her singing career, sometimes performing benefit concerts with the magnetic baritone Davis Gaines, who has performed the title role in "The Phantom of the Opera" on Broadway and elsewhere more than 2,000 times. The two met when George Abbott cast Gaines in a 1987 production of "Damn Yankees" at New Jersey's Paper Mill Playhouse. In their concerts - they had another planned for June in Honolulu - they would sing solos and duets, often doing numbers associated with Abbott's many Broadway hits.
In an email, Gaines called his longtime friend "strong, determined, driven and resilient, always bouncing back from any setback and returning to the things she loved the most: performing and playing golf…It was a true collaboration and a literal joy to share the stage with her."
When Gaines visited her recently while she was in hospice care at home, the two sang songs from the Abbott shows "Call Me Madam" and "Damn Yankees," then held hands as they sang their usual encore song, "Some Other Time" from "On the Town," which contains this lyric: "Just when the fun is starting/Comes the time for parting/But, let's be glad for what we had/And what's to come."
During Abbott's last days, her friends and family flocked to her home to say goodbye and reminisce about a woman who had brought so much joy into their lives.
Her nephew, attorney Lono Beamer, and his wife Gaye flew in from Honolulu.
"She was my godmother. She taught me tennis, manners and how to be a gentleman. She also spoiled the hell out of me. She was very generous to her family…She was our family historian. All her nieces and nephews were basically her grandkids," Beamer said.
Elva Uyeno Yoshihara, a Punahou '48 classmate, flew 10 hours from Hawaii and 10 hours back to spend one day with the woman who had been her friend since they were in eighth grade.
"I always enjoyed everything about her," Yoshihara said. "I must have heard her jokes 1,000 times….Everybody loved Joy. As a performer, she was so intimate in the way she presented herself. She really connected with people. Everyone feels they know her."
Abbott's friend and fellow Indian Creek member Connie Silver, who noted that the club's flag was lowered to half staff the day after her passing, visited her friend daily. She was, Silver said, "a lynchpin of the club. She brought in great entertainment…There are no more Joys around. She had a generosity of spirit. She always had a smile. She would always do whatever needed to be done. Everybody was her friend."
In recent years, Abbott's former business partner Mirrow became her companion and day-to-day support system. The two owned a place in Philadelphia together, and after she bought a condo in Honolulu, he would visit her there. They would go to theater together in South Florida and New York, and he would serve as the videographer of her performances.
"She made my life interesting, took me to places I never would have gone. She was very special and unique. She filled my life, and it was a two-way street," he said.
Abbott is survived by her sisters Ruth Sitjar and Grace Underhill of Los Angeles, and May Ann Beamer of Honolulu; numerous nieces, nephews, great-nieces and great-nephews; and George Abbott's grandchildren: Davidson of Germantown, New York; Clark of Fort Myers, and George Clark of Los Angeles. Davidson, who is about to become a grandmother herself, says she has decided to ask her grandchild to call her Joy-Joy.
A memorial service will be held at Indian Creek Country Club at a date and time to be determined. Another, also not yet set, will be held in Hawaii. 
Informally, Abbott's friend Yoshihara said, there is likely to be a special marking of her passing when Punahou's class of 1948 gathers for its annual June reunion: "We always sit by the lily pond at the chapel and throw plumeria blossoms into the water to memorialize our past classmates."
Christine Dolen was the Miami Herald's theater critic from 1979 to 2015, and during those years wrote many stories about George and Joy Abbott.