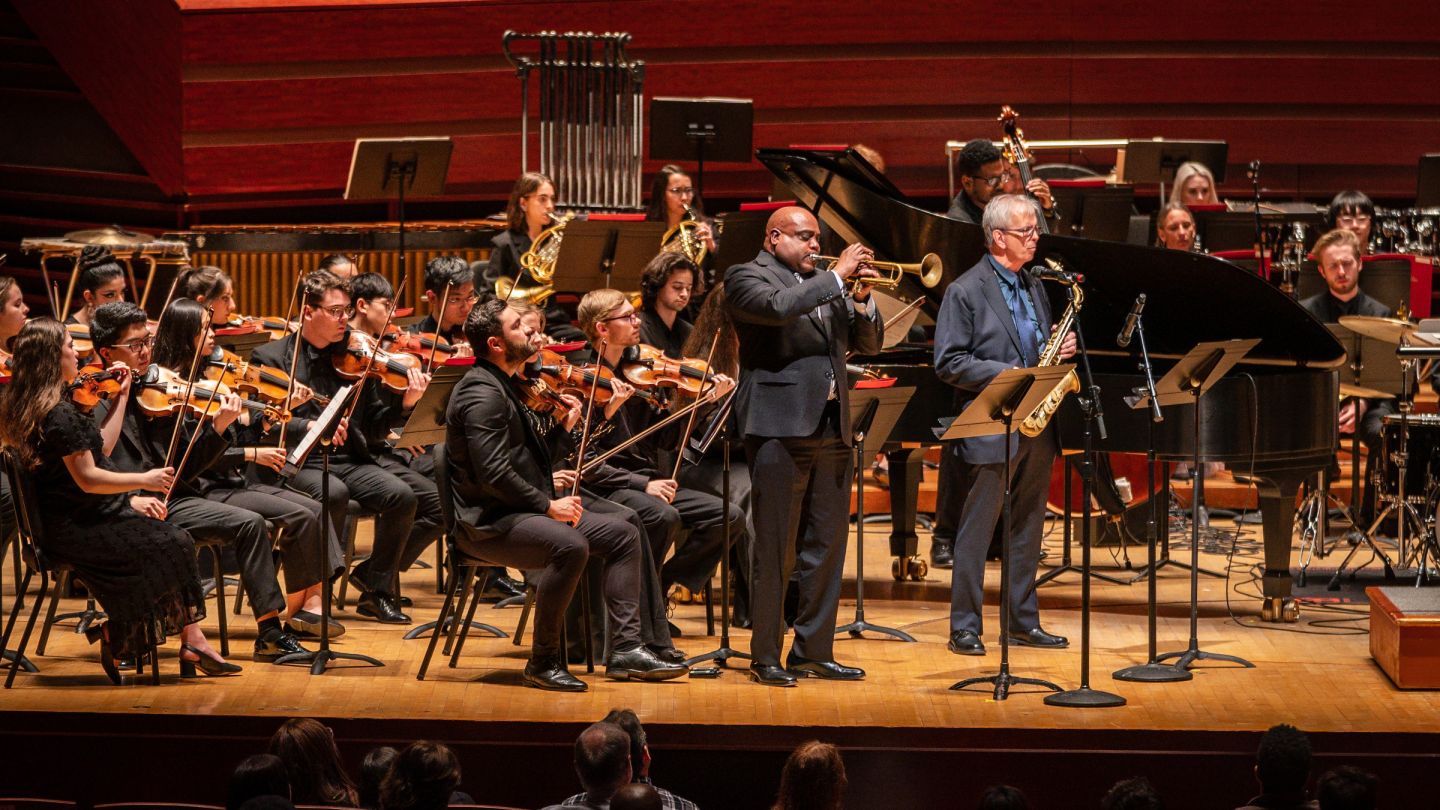 Photo: Jessica Griffin
Excerpts from the full article courtesy of WRTI.
The perplexing, architecturally intricate designs of M.C. Escher might seem like an unlikely source of inspiration for a jazz composer. But they gave Billy Childs the core idea for his ambitious new piece, "Labyrinth."
As the title suggests, "Labyrinth" unfolds as a kind of puzzle — complex, precise and disorienting, with many twists and turns. Childs wrote the piece as a commission for the Temple University Studio Orchestra, a convergence of Temple University's Jazz Band and Symphony Orchestra. The Studio Orchestra premiered Childs' piece at its 20th Annual Concert at the Kimmel Cultural Campus on March 31, in a concert that also featured works by Adolphus Hailstork and Igor Stravinsky.
If this sounds like a tricky path to follow, I can attest that it was, as a member of the Studio Orchestra's saxophone section. But my fellow musicians and I had expert guidance. "The orchestra has good time," Childs observed, "and I attribute that to the conductor, who's really great." As our conductor, José Luis Domínguez played a crucial role in merging the traditions of jazz and classical music. This wasn't just a matter of different genre categories, as we learned firsthand.
Childs offered some great advice about how to bridge the jazz/classical divide, something he's done throughout his distinguished career: "I bridge it by knowing as much as I can about why I wrote the piece and what I meant by it before walking into the rehearsal."
The main melody is played by Terell Stafford and Dick Oatts, longtime professors in the Boyer College of Music and Dance. Stafford is featured first, with a fiery trumpet solo in which he goads the rhythm section to match his intensity. Then the piece builds, and transitions into a lush ballad. Dick Oatts begins playing the melody on alto saxophone, along with the strings. He then plays a gorgeous solo in this section in which he explores tonal centers and colorful harmonies.
The Temple University Studio Orchestra will perform "Labyrinth" again on April 16, in a special concert at the Rose Theater at Jazz at Lincoln Center in New York City. The program will also feature the world premiere of "Rainforests," a Bill Cunliffe commission that will feature the Temple University Faculty Sextet: Stafford, Oatts, saxophonist Tim Warfield, pianist Bruce Barth, bassist Mike Boone, and drummer Justin Faulkner. Both pieces will then be recorded, and eventually released as an album. (The Faculty Sextet will also perform the title track from its current new release, Fly With the Wind.)
Speaking for myself and my fellow musicians, "Labyrinth" provided an incredible opportunity to exercise professionalism. Watching our own professors play, rehearse, and talk about music is an incredible look into the lessons that they teach us on a weekly basis. And playing this piece in particular encouraged the students to trust each other musically, something that Stafford always says is integral to music. "Labyrinth" prompted us to listen to each other no matter what, so that we could find our way through the maze together.