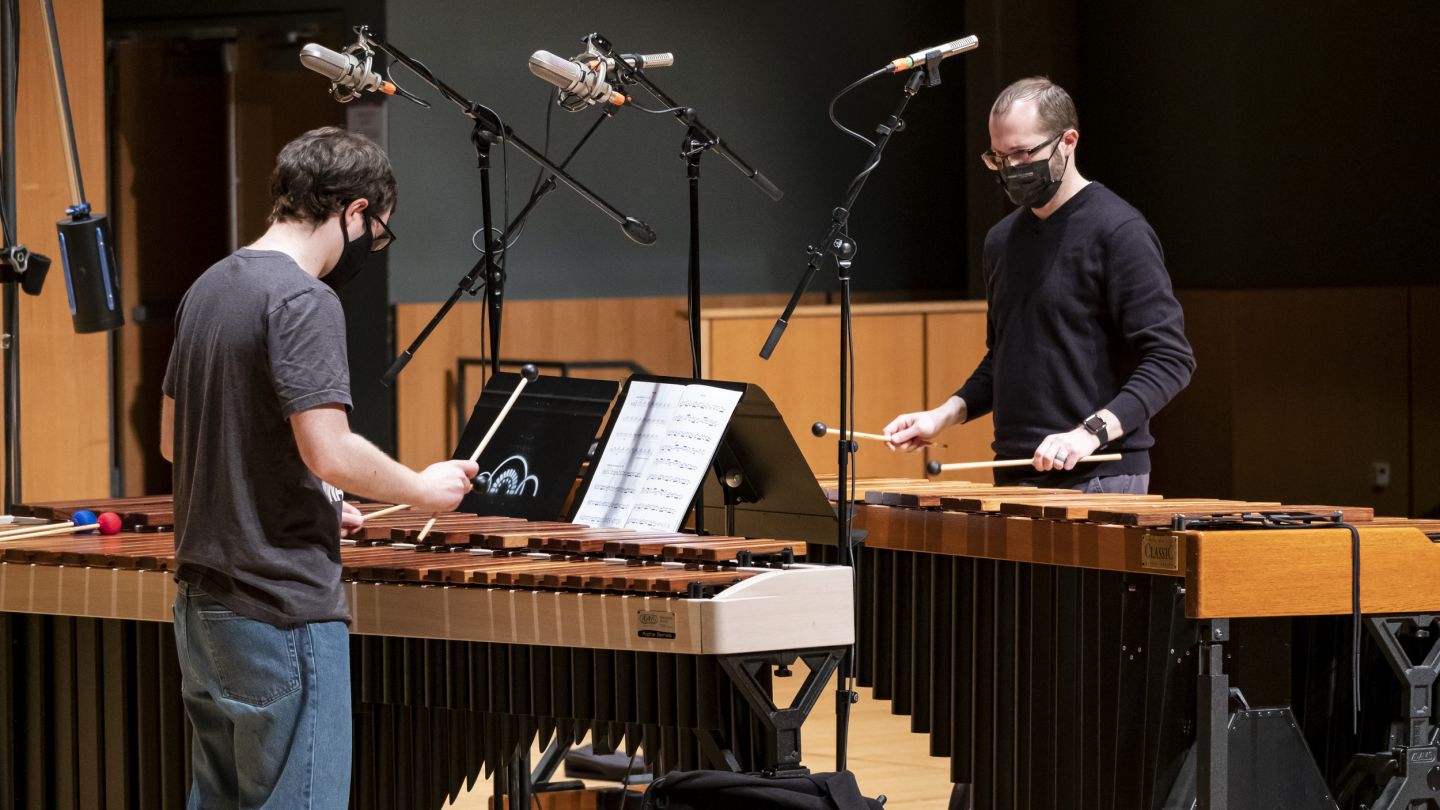 Joseph V. Labolito / Temple University Photography
The second album by the chamber music consort from the Boyer College of Music and Dance at Temple University draws from a pool of talent across the Philadelphia region. 
New York, NY – August 10, 2021 – On August 20, BCM+D records will release No Strings Attached: Percussion Music by Marc Mellits from the Philadelphia Percussion + Piano Project, recorded at the Boyer College of Music and Dance at Temple University. Anchored by the Boyer College's Artistic Director of Percussion Phillip O'Banion, the rotating chamber ensemble seeks to underscore the variety and depth of the chamber percussion and piano repertoire, adjusting in size and instrumentation as needed to maximize the range of works it performs. This release follows their 2020 album, Radiant Outbursts: (In) Human Progress, with music by George Antheil, Leonard Bernstein and Adam Silverman. 
The works performed on No Strings Attached were written and arranged by composer Marc Mellits. The first piece, Black, has been performed nearly 3,000 times globally and exists in multiple versions, including its original two–bass clarinet scoring and later versions for two vibraphones, two marimbas, or four marimbas. The Philadelphia Percussion + Piano Project "preferred the four-marimba version," says Phillip O'Banion, "as it maintained the homogeneity of timbre, like the original, had a similar full-throated and woody quality, and just seemed to balance and blend better through the ensemble."
The five-movement work for which the album is named, No Strings Attached was originally written for the Auchincloss Piano, a modern fortepiano created by Howland Auchincloss that digitized the sound of the old instrument so it would have an 18th century flavor with echoes of 1970s synthesizers. Mellits says, "I was so into it. The idea of taking the old and new and mixing them up, using a double manual Belgian harpsichord sound and putting vibraphone tones on top of it really attracted me. I think Auchincloss had only three made, so unless you were one of the people in the world who had one, the piece could not be played." 
"Phil asked me if I would be interested in arranging the piece for mallet quartet," Mellits explains. "That's challenging, but the more challenges and restrictions you put upon yourself, the more creative you are. I was so excited for the piece to be heard again."
Additional works on the album include Troică, inspired by the rhythmic sounds of the bells heard on a Romanian three-horse sled ride across Transylvania and Red, written after Mellits' chance meeting with admired Romanian poet Andrei Codrescu. The disc concludes with Gravity, a piece written for a combination of marimbas and vibraphones. "The opening of the work begins on a single pitch, D," explains Mellits. "Then, one by one, and with each instrument following each other, new notes are built into the pulsating sound.  With a musical gravitational force, the mixture of sound that these different materials make provide a springboard for the musical lines to intersect, bounce, and play off each other, always getting faster, always falling from the sky."
"Marc is a composer who genuinely loves the sound of percussion instruments," says O'Banion. "He embraces what percussion does really well, with music that has dynamism, a groove, and repetitive energy."
No Strings Attached
Percussion music by Marc Mellits
Philadelphia Percussion + Piano Project
Phillip O'Banion, director
Black
Griffin Harrison, Alonzo Davis, Jake Strovel and Adam Rudisill, marimbas 
No Strings Attached (recording premiere of new arrangement)
i.    Splifficated Mustard
ii.    Stiletto Crunch
iii.    This Side of Twilight
iv.    Curried Kafka
v.    Quarks & Leptons
Christopher Deviney and Phillip O'Banion, vibraphones
Angela Zator Nelson and William Wozniak, marimbas
Red
i.    Moderately Funky
ii.    Fast, Aggressive, Vicious
iii.    Moderate, with motion
iv.    Slow, with motion
v.    Moderate, with motion
vi.    Fast, Obsessive, Bombastic, Red
Phillip O'Banion and Lucas Conant, marimbas
Gravity
Myungji Kim and Caleb Breidenbaugh, vibraphones
Lucas Conant and Zach Strickland, marimba
Emilyrose Ristine, bass marimba
Troică
Lucas Conant, vibraphone
Caleb Breidenbaugh, marimba
Emilyrose Ristine, piano
About Philadelphia Percussion + Piano Project
The Philadelphia Percussion + Piano Project is an ongoing chamber music consort, with a mission to underscore the variety and depth of the chamber percussion and piano repertoire. Versatile by nature, this ensemble draws from a pool of virtuosic talent across the region, adjusting in size and instrumentation as needed to maximize the range of works it performs. The ensemble's performances have included everything from Antheil to Reich, from 'classics' of the modern repertory to newly commissioned works.
Phillip O'Banion, director *
Caleb Breidenbaugh
Lucas Conant
Alonzo Davis
Christopher Deviney *
Griffin Harrison
Myungji Kim 
Angela Zator Nelson *
Emilyrose Ristine
Adam Rudisill
Zach Strickland
Jake Strovel
William Wozniak *
* Temple University percussion faculty
About Marc Mellits
Marc Mellits' music is a mainstay on programs from Carnegie Hall and the Kennedy Center to music festivals in Europe and abroad. His unique musical style is an eclectic combination of driving rhythms, soaring lyricism, and colorful orchestrations that all combine to communicate directly with the listener.  Said the New York Press, "This was music as sensual as it was intelligent; I saw audience members swaying, nodding, making little motions with their hands." Mellits was writing piano music long before he started formal piano lessons at age 6.  He went on to study at the Eastman School of Music, Yale School of Music, Cornell University, and Tanglewood.  Mellits often is a miniaturist, composing works that are comprised of short, contrasting movements or sections.  His music is eclectic, all-encompassing, colorful, and always has a sense of forward motion.
Mellits' music has been played by major ensembles across the globe and he has been commissioned by groups such as the Kronos Quartet, Orpheus Chamber Orchestra, Royal Concertgebouw Orchestra (Holland), Duo Assad, Bang On A Can All-Stars, Eliot Fisk, Canadian Brass, Nexus Percussion, Debussy Quartet, Third Coast Percussion, Real Quiet, New Music Detroit, Four-In-Correspondence (National Symphony Orchestra), Musique En Roue Libre (France), Fiarì Ensemble (Italy), Percussions Claviers de Lyon (France), Talujon, the Society for New Music, Syracuse Symphony Orchestra, and the Albany Symphony's Dogs Of Desire.  Additionally, Mellits' music has been performed, toured, and/or recorded by members of the Detroit Symphony, Atlanta Symphony, Boston Symphony, Chicago Symphony, Minneapolis Symphony, Brooklyn Philharmonic, eighth blackbird, Chamber Music Society of Lincoln Center, New Millennium Ensemble, Da Capo Chamber Players, and the American Modern Ensemble.
Mellits has composed numerous film scores, including the PBS mini-series "Beyond The Light Switch" that won a 2012 Dupont-Columbia award.  Mellits also directs and plays keyboards in his own ensemble, the Mellits Consort, for which he was awarded the 2004 Foundation for Contemporary Arts Award.  Over 50 recorded works of Mellits' music can be found on Black Box, Endeavour Classics, Cantaloupe, CRI/Emergency Music, Santa Fe New Music, Innova, & Dacia Music.  Mellits is an Associate Professor of music at the University of Illinois at Chicago. He lives in Chicago with his wife and two daughters and spends significant time in Romania.
# # #
Journalists and Program Directors: To audition the recording for review or radio airplay, please contact:
Rebecca Davis
Rebecca Davis Public Relations
Rebecca@rebeccadavispr.com
347-432-8832
Amanda Sweet
Bucklesweet
Amanda@bucklesweet.com
347-564-3371