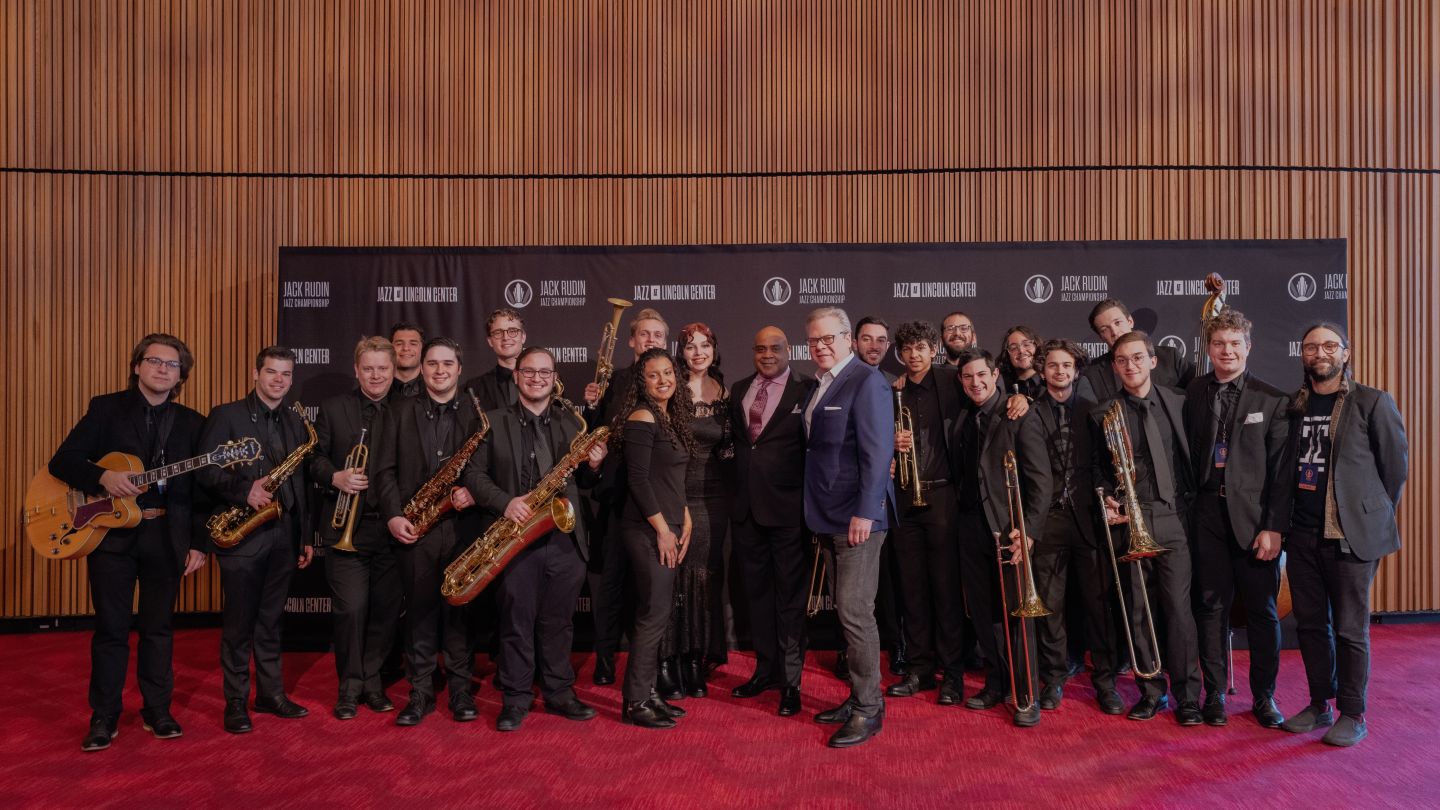 Photo: Lawrence Sumulong
Boyer College is pleased to announce that the Temple University Jazz Band (TUJB) placed second at the 2022 Jack Rudin Jazz Championship, hosted by Jazz at Lincoln Center (JALC) on April 19 and 20. Judges included pianist Ayn Inserto, saxophonist/vocalist Camille Thurman, drummer Jeff Hamilton, trumpeter Randy Brecker and JALC Managing and Artistic Director Wynton Marsalis.
Directed by Terell Stafford, TUJB competed against nine well-regarded university jazz programs from across the country. An evening combo showcase in The Appel Room kicked off day one of the event. Day two featured parts I and II of the competition itself in JALC's Rose Theater, after which TUJB was named one of five finalists to perform in the final concert that evening. At the end of the night, TUJB was awarded second place, with Michigan State University taking the win and North Carolina Central University taking third.
Three TUJB sections and several individual members received additional accolades for their performances:
Outstanding Rhythm Section

Outstanding Trombone Section

Outstanding Trumpet Section

Outstanding Piano: Anthony Aldissi, BM '24

Outstanding Tenor Saxophone: Dylan Band, MM '22

Outstanding Drums: Maria Marmarou, BM '22

Outstanding Trumpet: John Meko, MM '22

Outstanding Trumpet: Banks Sapnar, BM '23

Honorable Mention Vocals: Danielle Dougherty, MM '23

Honorable Mention Trombone: Ian Kaufman, MM '22

Honorable Mention Bass: Stanley Ruvinov, MM '22
TUJB heads back to NYC and Jazz at Lincoln Center on April 25 for its annual performances at Dizzy's Club. Special guest Joey DeFrancesco will join the band on organ. Get tickets.