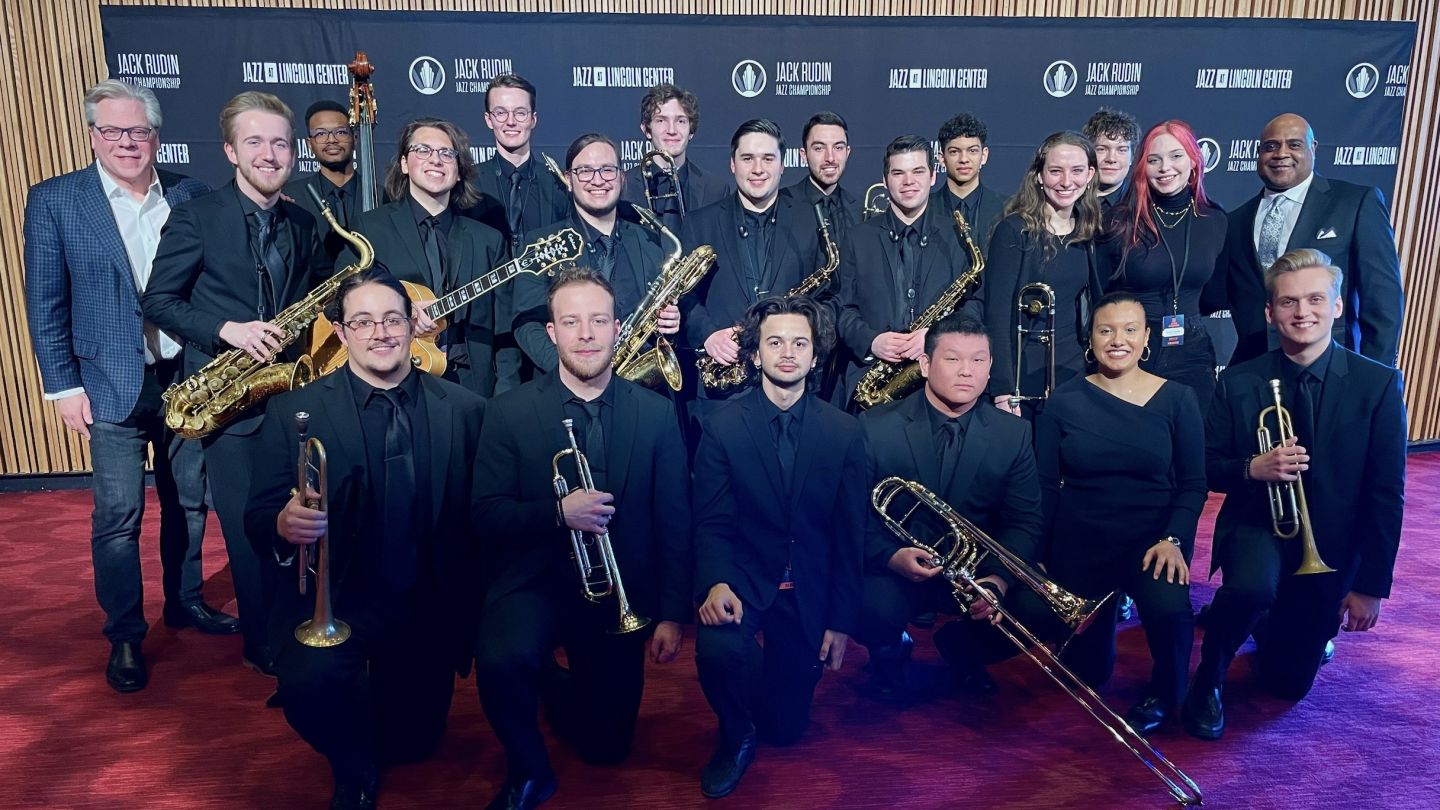 For the third year in a row, the Temple University Jazz Band (TUJB), directed by Terell Stafford, has placed at the 2023 Jack Rudin Jazz Championship, Jazz at Lincoln Center's (JALC) two-day invitational competition for top university and college jazz bands. TUJB is the only band to have placed every year since the championship began in 2020, having placed second last year and first at the inaugural event.  This year, JALC Managing and Artistic Director Wynton Marsalis awarded TUJB second place, along with an award of $7,500 to build on the excellence of Temple's jazz education program. North Carolina Central University took first and Michigan State University took third. Read the full press release from JALC and Wynton Marsalis.
This year's prestigious line-up of judges included Wynton Marsalis, drummer Jeff Hamilton, saxophonist Ted Nash, vocalist Catherine Russell and trumpeter Bijon Watson. As in years past, several of TUJB's sections and members also received individual recognition:
Outstanding Rhythm Section
Outstanding Saxophone Section
Outstanding Trombone Section
Outstanding Trumpet Section
Outstanding Piano: Anthony Aldissi, BM '24
Outstanding Drums: Maria Marmarou, BM '22, MM '24
Outstanding Bass: Dan McCain, MM '24
Outstanding Trombone: Drew Sedlacsik, BM '23
Honorable Mention Alto Saxophone: Adam Abrams, MM '23
Honorable Mention Tenor Saxophone: Evan Kappelman, BM '23
Honorable Mention Trumpet: Banks Sapnar, BM '23
Earl Hines Outstanding Musicianship Award: Maria Marmarou, BM '22, MM '24
Congratulations to TUJB and Terell Stafford on another successful year at the Jack Rudin Jazz Championship! TUJB will be back in NYC on April 24 for its annual performances at Dizzy's Club.