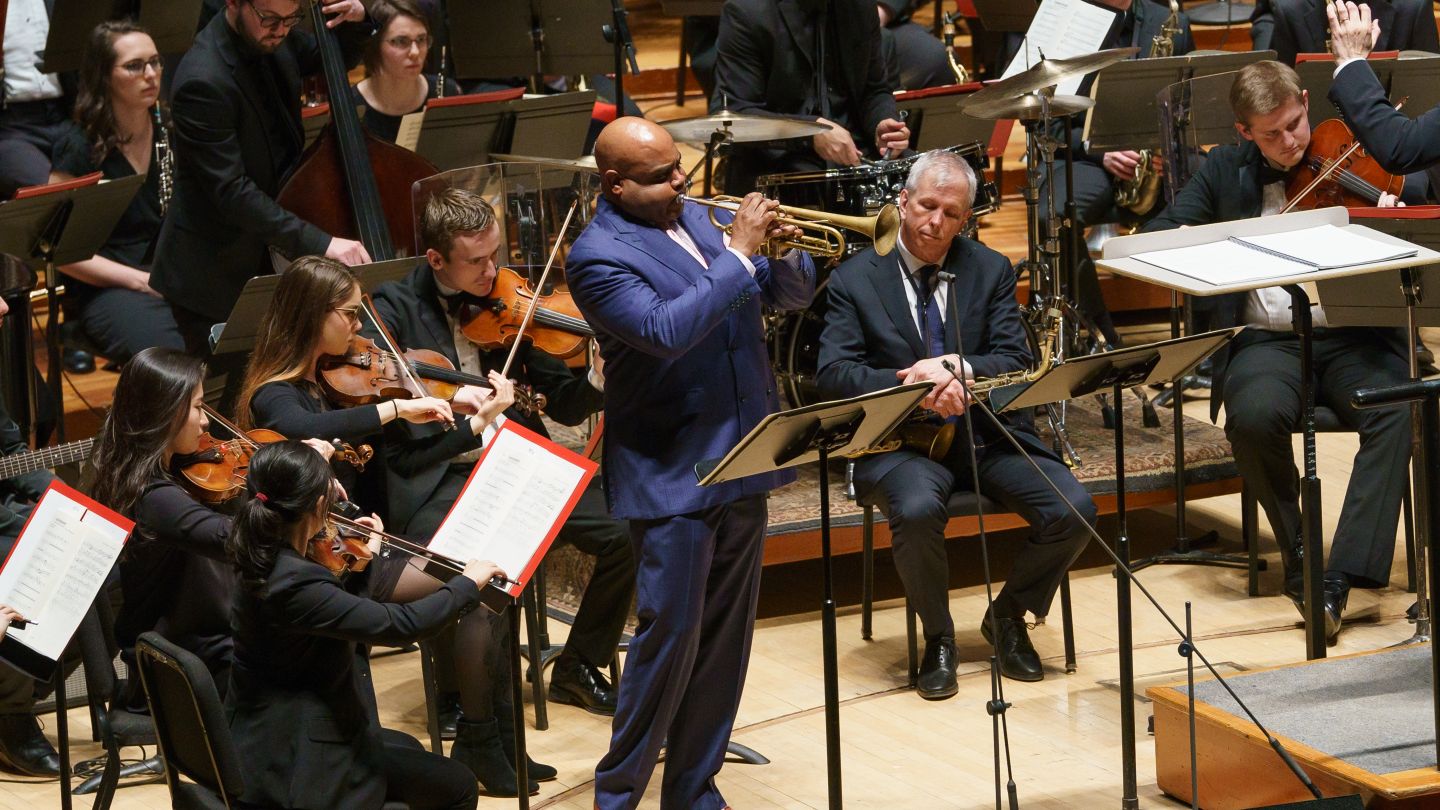 Temple University's Boyer College of Music and Dance Presents a One-Night Only Classical-Jazz Concert April 16 at Jazz at Lincoln Center with Orchestral Premieres by Billy Childs and Bill Cunliffe
Featuring Performances by 100+ Student and Faculty Artists including Temple University's Symphony Orchestra, Studio Orchestra, and Faculty Jazz Sextet: Terell Stafford, Dick Oatts, Bruce Barth, Tim Warfield, Mike Boone, and Justin Faulkner
In Celebration of TU's Faculty Jazz Sextet's Album Release Fly With the Wind
New York, NY (For Release 2.28.23) — The award-winning Temple University Jazz Band (TUJB) today announced its return to Jazz at Lincoln Center in a one-night only concert April 16th at 8:00 p.m. Hailed as one of today's leading jazz student ensembles, TUJB is joined on stage by its sister groups — TU's Symphony Orchestra and Studio Orchestra—as well as its Faculty Sextet: Terell Stafford, Dick Oatts, Bruce Barth, Tim Warfield, Mike Boone and Justin Faulkner. Program includes the New York premiere of Billy Childs's Labyrinth, the world premiere of Bill Cunliffe's Rainforests, Argentine composer Alberto Ginastera's energetic Four Dances from Estancia and Banks Sapnar's Red Braid from the performance that earned the TUJB second place at this year's Jack Rudin Jazz Championship. In celebration of the school's latest album release, the Faculty Sextet performs the eponymous track from Fly With the Wind (TBR 4.14.23, BCM&D Records). 
After 10 years of performing at Dizzy's Club Coca-Cola, the 18-member TUJB returns to JALC though this time on the much larger Frederick P. Rose Hall stage and with the 85-member Temple University Symphony Orchestra (TUSO) and the Grammy-nominated Temple University Studio Orchestra. Rivaling professional groups, the Temple University student ensembles have been hailed for their passionate, stellar performances. According to Terell Stafford, Director of Jazz Studies and Chair of Instrumental Studies at Temple University, this concert is a milestone in Temple University's history. "For the first time ever, two of Temple's top instrumental groups as well as jazz faculty members will be performing on one stage in New York City. This is a great way to hear the future of classical and jazz music which rest assured is in good hands!"
The evening's cornerstones are two commissioned works for TU's Studio Orchestra by Grammy Award-winning artists. Pianist/composer Bill Cunliffe celebrates one of the world's most important and special places, Rainforests. This large swinging piece is peppered with Latin rhythms, consistent with Cunliffe's acclaimed compositional style. Rainforests is the latest collaboration in a decade-long friendship between the composer and Temple University. In 2012, his Overture, Waltz and Rondo was released on Temple's label, BCM+D Records, featuring Stafford and the TUSO. It awarded Cunliffe a Grammy nomination for Best Instrumental Composition. Celebrating its New York premiere is Billy Child's Labyrinth (2023) featuring Terell Stafford on trumpet and Dick Oatts on saxophone. It receives its world premiere on March 31st at the Kimmel Center in Philadelphia and will subsequently be recorded there April 17-18 for future 2023 release on BCM&D Records. 
Fly With the Wind is the opening track on McCoy Tyner's 1976 recording of the same name. The album was a milestone in Tyner's career. It was the pianist's first recording with strings, and it proved to be one of his most popular titles. At the time, this highly influential conception was an unfamiliar ensemble of piano with strings. It gets an effective arrangement by pianist Bruce Barth for Temple's Jazz Faculty Sextet. Fly With the Wind is also featured on the Sextet's latest album of the same name.
The TUSO opens the program with Four Dances from Estancia (1943) by one of the great stars of South American concert music, Argentina's Alberto Ginastera (1916-1983). Blending indigenous Argentine folk music with the more rigorous elements of European art music, Four Dances from Estancia was extracted from the original ballet score written for American Ballet Caravan. It premiered in Buenos Aires and was an immediate success, and quickly gained popularity on the world stage. Rounding out the evening is Red Braid (2022), a piece written for the TUJB by one of its own members, trumpeter Banks Sapnar.
About Temple University Jazz Band    
Led by Terell Stafford, Director of Jazz Studies and Laura H. Carnell Professor of Jazz, the Temple University Jazz Band (TUJB) performs on Temple's main campus and throughout the greater Philadelphia region and hosts the annual Essentially Ellington Eastern Regional High School Jazz Band Festival. The band took first and second place (twice) in the initial Jack Rudin Jazz Competitions at Jazz at Lincoln Center, an invitational competition that features 10 of the country's top university jazz programs. Other festival appearances include the Mellon/PSFS Jazz Festival, International Association of Jazz Educators Conferences, the East Coast Jazz Festival, the Midwest Clinic International Band and Orchestra Conferences and the Detroit International Jazz Festival. The TUJB is also a frequent award winner at the annual Villanova Jazz Festival. 
In addition to numerous on-campus performances, the TUJB has performed many times at Philadelphia's Kimmel Cultural Campus and performs each spring at Dizzy's Club Coca-Cola at Jazz at Lincoln Center. In March 2003, the TUJB toured Germany, which included five performances with the Phoenix Foundation Jazz Band. In May 2008, the band traveled to Amsterdam where they performed with the Amsterdam Conservatory Jazz Band and at The Hague Jazz Festival. The TUJB has also performed at the Kennedy Center for the Performing Arts with the Terell Stafford Quartet and Carla Cook in a tribute to Dizzy Gillespie and Sarah Vaughan. Other performances in recent seasons have included appearances with Joey DeFrancesco, Christian McBride, Jon Faddis, Frank Wess, Clark Terry, Joe Wilder, Jimmy Heath, Benny Golson, the Vanguard Jazz Orchestra, Karrin Allyson and Freddy Cole. 
Among many of the other respected jazz artists who have played with the TUJB on stage, in master classes and in clinics are: Wynton Marsalis, Slide Hampton, Dizzy Gillespie, Dr. Billy Taylor, Max Roach, Phil Woods, Mel Lewis, Dick Oatts, Byron Stripling, Conrad Herwig, Claudio Roditi, Antonio Hart, Carl Allen, JoAnne Brackeen, Regina Carter, Cyrus Chestnut, McCoy Tyner, Norman Simmons, Benny Golson, Savion Glover, Joshua Redman, Huston Person, John Clayton, René Marie, Wycliffe Gordon and Marshall Gilkes.
About Temple University Symphony Orchestra    
Led by music director/conductor José Luis Domínguez, the Temple University Symphony Orchestra (TUSO) is comprised of undergraduate and graduate students. Performances feature a wide range of orchestral repertoire, as well as faculty, guest, and student soloists. In addition to annual performances with the combined choirs at the Kimmel Cultural Campus in Philadelphia, the TUSO has performed at Carnegie Hall, Lincoln Center's Alice Tully Hall, and other venues in the Greater Philadelphia region. Students from all degree programs within the University are welcome to audition for TUSO. Three of TUSO's recent recordings have been Grammy-nominated in the "Best Instrumental Composition" category. Those recordings were released on the college recording label, BCM&D Records. Those and other TUSO recordings are available on iTunes, Amazon, Spotify and Google Play.
About Temple University Studio Orchestra
The Temple University Studio Orchestra comprises members of the Temple University Symphony Orchestra and Jazz Band. Specializing in classical/jazz crossover music, the ensemble has performed and recorded several compositions commissioned by Temple University's Boyer College of Music and Dance, including Vince Mendoza's two-time Grammy-nominated Constant Renaissance and Michael Abene's arrangements of Sinatra tunes featured on the 2017 recording Luck Be A Lady: A Tribute to Frank, both on BCM&D Records. Temple University faculty artists Terell Stafford and Dick Oatts have been featured guests with the ensemble in performances at the Kimmel Center for the Performing Arts and the Temple Performing Arts Center.
Ticketing + Program Information
Sunday, April 16, 2023 at 8:00 p.m.
Jazz at Lincoln Center's Frederick P. Rose Hall, The Shops at Columbus Circle, New York, New York, 10023
Trains: 1/A/B/C/D to Columbus Circle, N/Q/R/W to 57th Street/7th Avenue
Tickets: $30-$50 General. $15 Students. To reserve, contact JALC at 212.721.6500 or visit JAZZ.org. 
Program:
Four Dances from Estancia (1943) by Alberto Ginestera
Temple University Symphony Orchestra
José Luis Domínguez – conductor
Labyrinth (New York premiere) by Billy Childs
Temple University Studio Orchestra
José Luis Domínguez – conductor
Terell Stafford – trumpet
Dick Oatts – saxophone
Fly With the Wind, by McCoy Tyner, arr. Bruce Barth
Terell Stafford – trumpet
Dick Oatts – saxophone 
Bruce Barth – piano
Tim Warfield – saxophone
Mike Boone – bass
Justin Faulkner – drums
Red Braid by Banks Sapnar
Temple University Jazz Band
Terell Stafford - director
Rainforests (world premiere) by Bill Cunliffe
Temple University Studio Orchestra
Terell Stafford – trumpet
Dick Oatts – saxophone
Bruce Barth – piano
Tim Warfield – saxophone
José Luis Domínguez – conductor 
# # #
Media Contact: April Thibeault, AMT PR, 212.861.0990, april@amtpublicrelations.com