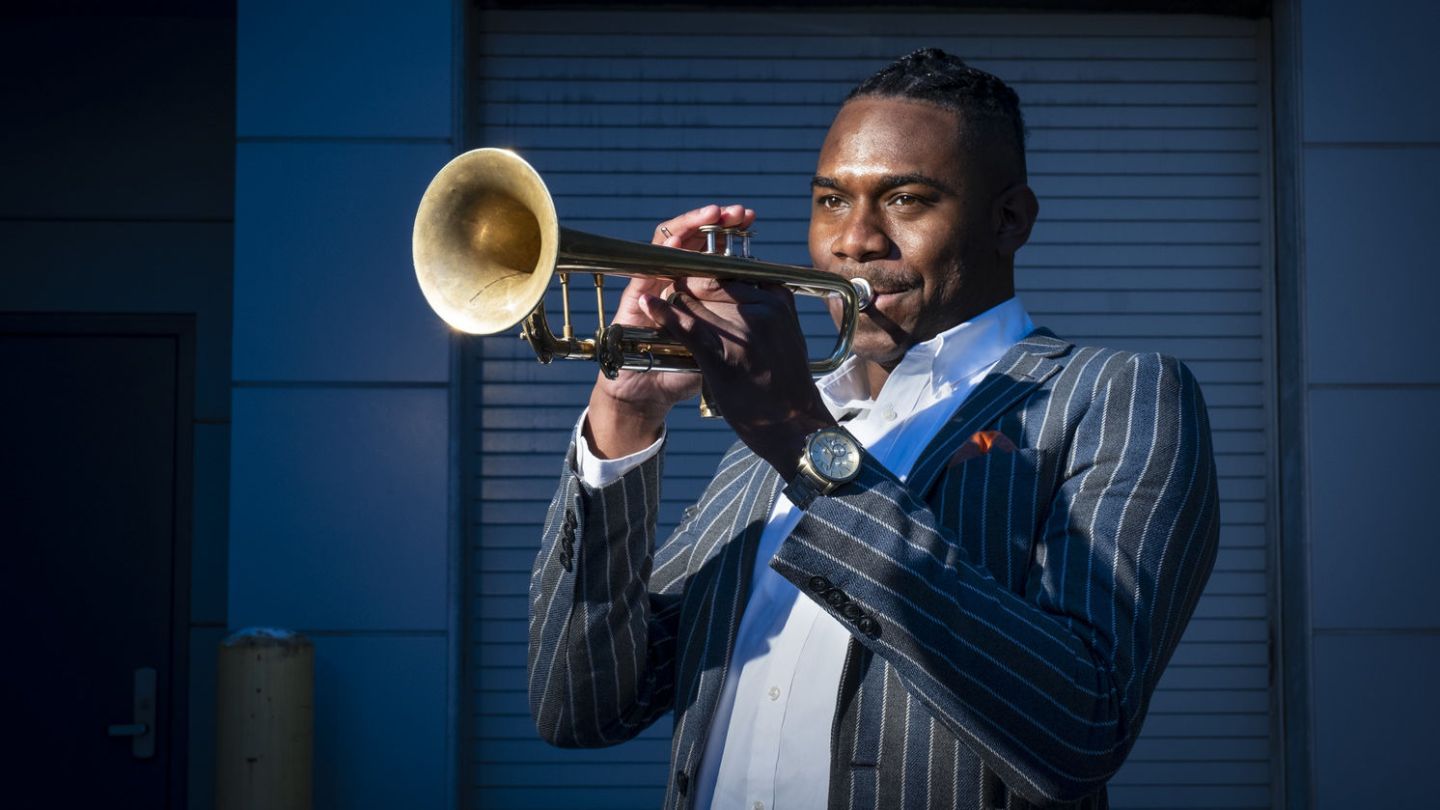 Photo: Joseph V. Labolito / Temple University
On Jan. 24, Fareed Simpson-Hankins, BYR '19, '21, premiered his video series, Second Line Bebop, on YouTube. Of the public's positive reaction, he said, "I don't think people were expecting it to be what it was, which is a good feeling for jazz musicians, as we don't like to be predictable."
The video series highlights the cultural parallels between Philadelphia and New Orleans with a focus on jazz music. It was the culmination of research that Simpson-Hankins conducted with support from a $10,000 stipend granted through the Presser Graduate Music Award. Only graduate students that express interest in furthering their education are eligible for the prize, which is awarded through the Presser Foundation, a Philadelphia-based musical education and philanthropy organization. 
Simpson-Hankins' research tracks the similarities in the trajectories of major figures in the jazz canon from both New Orleans and Philadelphia. For example, Louis Armstrong, hailing from New Orleans, and John Coltrane, from Philadelphia, are representative of the sounds of each city. The pair laid the foundation for modern iterations of jazz in the form of the music on late night TV, represented by Jon Batiste and Questlove, also from New Orleans and Philadelphia, respectively. 
And while the focus of his project is on jazz music, it also addresses the role that both cities played in the inception of gospel music, as well as the similarities between Mardi Gras and the Mummers' Parade. 
Research on the similarities between New Orleans and Philadelphia and its accompanying video series is only one component of the work Simpson-Hankins is doing as part of the Presser award. He is also teaching and sharing his research with the Community Music Scholars Program, which provides music instruction to school-aged students throughout Philadelphia and is maintained through a close partnership with Boyer College of Music and Dance. Through the program, students can participate in individual lessons, music theory classes or performing ensembles with minimal cost to families. Simpson-Hankins himself participated in the program for eight years, starting when he was 10 years old.
"I was the youngest one in there and I didn't know anybody but it was a welcoming musical family," said Simpson-Hankins of his early days in the Community Music Scholars Program. It was in the program that Simpson-Hankins met Boyer faculty member Terell Stafford, who would later become a close mentor. "That's what you do in jazz. You learn and you share what you learn and you help younger people the same way that people did for you," he said. 
The Community Music Scholars Program has been connecting younger people with older people that are willing to help them gain mastery of their instruments since 1968. "The idea was to create a bond between the university and the community," said Mark Huxsoll, the director of Temple's Music Prep program, of which the Community Music Scholars Program is a part. 
While music instruction for youth is the main objective of the Community Music Scholars Program, motivation towards college prep is an added benefit. "A number of the students who have been in the program are first-generation potential higher education students who are coming on campus and learning in the same environment as the college students and developing a relationship with the university," explained Huxsoll. "It's a place they can have some comfort in and potentially advance toward."
The Community Music Scholars Program also provides students with an opportunity to create a sense of community centered around musicianship. "The students find a supportive musical community almost like a family," said Melissa Douglas, the program's coordinator. "They find real joy in getting together and making music."
Although a career as a professional musician for students is not the goal of the Community Music Scholars Program, tales of success, like that of Simpson-Hankins, are a source of pride. Most students who participate in the Community Music Scholars Program pursue a wide array of disciplines, ranging from liberal arts to business, when they reach college. In fact, Simpson-Hankins originally wanted to be a pharmacist. He started his undergraduate career at Temple studying both chemistry and trumpet before eventually realizing he had to choose one or the other as a priority. In 2019, he received a bachelor's degree from Boyer with a major in jazz performance and a minor in chemistry, followed by a master's degree in music and jazz studies in 2021. 
Now he looks back fondly on tutelage that set a foundation for a lifetime of continued learning. "The biggest takeaway for me was this change in the way I thought about artistry and how I want my life to go as a player," he said. "It felt like the beginning of a journey."