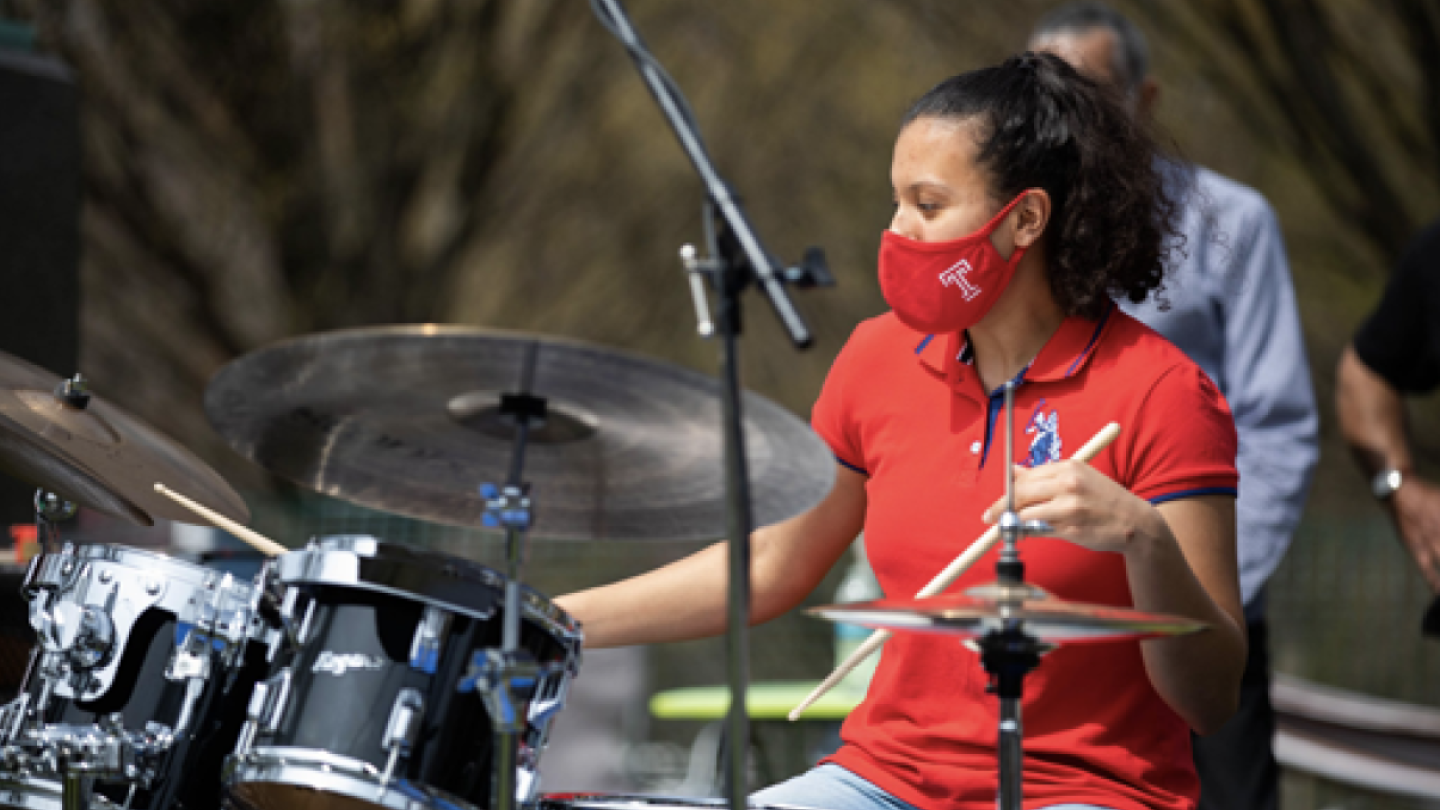 Photo: Courtesy of Jersey Jazz Magazine
Trumpeter Terell Stafford is celebrating his 25th year as Director of Jazz and Instrumental Studies at Temple University's Boyer College of Music and Dance. On April 19th and 20th, his students competed with nine other university jazz programs in Jazz at Lincoln Center's 2022 Jack Rudin Jazz Championship and finished second. Here's a look at some of the exceptional students in the Temple program.
Banks Sapnar
Outstanding Trumpet
Growing up in Haddonfield, NJ, Banks Sapnar's first exposure to jazz was a compendium CD his mother gave him, which was filled with Duke Ellington's recordings. "I put the CD in my boombox," he recalled, "and listened to the recordings for hours. It's been my passion ever since."
Sapnar started playing trumpet in middle school, inspired by the school band director, Steve Uibel, who was also his first trumpet teacher. "I was incredibly lucky to have such a great early foundation on the instrument with somebody who had a lot of experience playing," he said. But, "the reason I picked up the trumpet in the first place was Louis Armstrong. His energy and joy was so contagious to me and listening to his music made me feel like I was on top of the world. I also listened to a lot of Dizzy Gillespie as a kid. My current biggest influence is my mentor, Terell Stafford, who is my favorite living trumpet player." Others include, Nicholas Payton, Theo Croker and John Swana (another teacher).
The Temple band was recognized as one of four Outstanding Trumpet Sections at the Rudin Championship, and Sapnar was recognized as an Outstanding Trumpet player. The experience of competing in that event, he said, was "surreal. Playing at Jazz at Lincoln Center's Rose Hall is a pretty unbelievable experience in itself; then, on top of that, playing in front of judges such as Wynton Marsalis, Ron Carter, Jeff Hamilton, Gary Smulyan and Randy Brecker." It was also "enriching to hear so many bands from so many different parts of the country."
The Jack Rudin Championship, though, was not Sapnar's first experience with Jazz at Lincoln Center. While in high school, he was selected for the National Association for Music Education National Jazz Ensemble, directed by JALC Vice President of Education Todd Stoll, and he also attended the Wynton Marsalis Summer Jazz Academy. The NAfME band, he said, "played at an extremely high level, and I got to play and hang with some incredible musicians." The Summer Jazz Academy "was my first opportunity to work with and learn from Jazz at Lincoln Center Orchestra members including (trumpeter) Marcus Printup, (trumpeter) Kenny Rampton, (trombonist) Chris Crenshaw and (trombonist) Vincent Gardner. SJA is also where I first met Terell Stafford."
Sapnar feels there is "a real family vibe at Temple. All the faculty are regularly on campus and always go above and beyond their job description." As for the future: "I am most certainly going to make a career out of the trumpet. I've felt for a long time that I would play music for the rest of my life." On June 24, he will be playing in saxophonist Evan Kappelman's quintet at Philadelphia's Kimmel Center.
Maria Marmarou
Outstanding Drums
While attending Kutztown (PA) High School, Maria Marmarou studied under percussionist Dr. Willis Rapp. "He inspired me and taught me so much," Marmarou said. "I participated in county and district jazz and orchestra ensembles as well as All-State and the NAfME National Jazz Ensemble. I am so glad I had those experiences because, as well as learning so much, I met many friends my age and people like Chris Crenshaw, Terell Stafford, (drummer) Sherrie Maricle and (bassist) Rodney Whitaker, who I still have relationships with today. Dr. Rapp helped me prepare for those auditions and lent me his sweet '60s Gretsch drum set for one of the performances."
Marmarou "always loved the Basie Orchestra and Elvin Jones when I was in high school. Elvin Jones played with so much power and beauty at the same time. Right now, I really enjoy hearing my teacher, Justin Faulkner, as well as Byron Landham, Herlin Riley and Roy Haynes."
When she attended the annual Boscov's Berks Jazz Fest in Reading, PA, with her high school band, Marmarou met Terell Stafford, "and after he directed our band, he told me to come to Temple. I visited Philadelphia for my audition and immediately felt at home and knew I would enjoy living in this city for four years. I also read through (drummer) Steve Fidyk's big band book with Dr. Rapp in high school, so I knew I wanted to study with him. (Fidyk is an adjunct faculty member at Temple).
"My biggest highlights in college have been being in Terell's big band and traveling to Chicago, New York and Detroit. The coolest thing was recording two albums with the band, one of them alongside Christian McBride and Joey DeFrancesco." That album was Without You, No Me, released in September 2021 on the BCM&D Records label. It was dedicated to the late tenor saxophonist Jimmy Heath, Stafford's mentor. (See interview with Stafford in "Sarasota Jazz Festival," Jersey Jazz, March 2022). In his review of the album, DownBeat's Ed Enright wrote: "Throughout Without You, No Me, a shared enthusiasm and heartfelt gratitude among Philly's finest rule the day."
Marmarou received Temple's Billy Strayhorn Jazz Education Scholarship twice. "I am very grateful to have received those awards," she said, "because, as a freshman and sophomore, I was working very hard and not at a point where I thought I earned them, so I know that my teachers saw the potential in me." She's currently finishing her bachelor's in jazz performance at Temple and plans on performing as a career. However, she's quick to point out that she also has other interests and hobbies. For example, "I am a bike assembler/mechanic with Trek Bikes, so my goal is to perform full-time and have some part-time paying hobbies."
As for the Jack Rudin Championship, "It was a great experience. I got to meet (drummer) Obed Calvair and (bassist) Carlos Henriquez, which was really cool. We got to hang out in New York for a few days and performed in front of so many people. It was a lot of fun."
Dylan Band
Outstanding Tenor Saxophone
Dylan Band learned about jazz from his father, whose "love for music really inspired me to keep practicing." He studied with veteran tenor saxophonist Larry McKenna, and "that really helped me learn how to play." And, when he was in high school, he spent time at The Philadelphia Clef Club of Jazz and Performing Arts, a music education program that serves several students through in-school programs and outreach community events. Among those who received early mentoring from the program, founded by pianist/educator Lovett Hines, are Christian McBride and Joey DeFrancesco. "The Clef Club," said Band, "was more than an educational place for me. It was more of a cultural center. Getting to be around older musicians all the time really helped me mature, not only as a musician but as a person, too. At Temple, I have learned so much from so many different professors who are all professional musicians of the highest rank."
Band has led his own quartet in Philadelphia for a few years, and he and pianist Joe Block formed the Philadelphia Ambassador Big Band in 2016. "We began with an emphasis on learning Duke Ellington's music," he said, "but as we've progressed, we began commissioning band members to compose and arrange for the band specifically. We have now written music for and played with (saxophonists) Jaleel Shaw, Seamus Blake and Immanuel Wilkins." (NJJS Scholarship recipient trumpeter Liam Sutcliffe is a member of the Philadelphia Ambassador Big Band. See page 11 of the complete issue. Block, who attended Juilliard, was a Jersey Jazz Rising Star in January 2021).
Lester Young, Ben Webster, Sonny Rollins and Wayne Shorter are some of Band's favorite saxophonists. "They all played so in the moment," he said. "All of their phrases are melodies, and they use their sounds to evoke real emotions. It's never just about the notes with them."
The Jack Rudin Championship, he said, "was invaluable. It is always great when so many like-minded people are in the same room. Getting to interact with music students from all over the country who share the same goals and passions is very inspiring."
Danielle Dougherty
Honorable Mention, Vocals
In high school, Danielle Dougherty was a vocal major at the Arts Academy at Benjamin Rush in Philadelphia, and, "In my sophomore year, we had a whole jazz unit. I just fell in love with the genre."
Ryan Roemer, an instrumental teacher at Benjamin Rush, helped Dougherty connect with Philadelphia's All City Jazz Band, and that was a turning point. "All I did," she recalled, "is sing 'Autumn Leaves' and 'A Tisket A Tasket', and I had the time of my life. Because of doing the All City Jazz Band, I became great friends with some instrumentalists who were the grade below me in high school. Those guys – trombonist Jasyn Brazoban, bassist Dan McCain and trumpeter John Polanco – gave me my first jazz gig around 2017, and I will never forget that."
In high school, Dougherty was initially worried about singing the wrong note, but her vocal instructor, Najwa Parkins, "taught me that jazz music is all about taking risks, and trusting yourself. I am definitely a happier and more confident person because of her."
Her earliest vocal hero was Ella Fitzgerald. "I truly believe she is the best singer this world has ever known and maybe ever will know," she said. "Her vocal range, agility, knowledge, and the emotion behind her sound is incomparable." During the pandemic, Dougherty spent a lot of time listening to Billie Holiday. "I could listen to her for hours, and I frequently do. Her phrasing is unmatched, and the pain in her voice is something that will never be forgotten." Among current vocalists, she is "extremely influenced by Samara Joy. Her tone is so authentic and rare. And, she is around my age, which is super inspiring. I'm also a big fan of Jazzmeia Horn and Lucy Yeghiazaryan."
The highlight of Dougherty's Temple experience was performing with the college big band. Like Marmarou, she was part of the Without You, No Me recording. "Getting to work with someone as renowned as Terell Stafford has been nothing short of wonderful," she added. She has performed at Philadelphia's Chris' Jazz Café and hopes to make jazz performance a career. But she also hopes to teach vocals at a college or university level or give independent vocal lessons.
The Jack Rudin Championship was "terrifying, but also amazing. I never had the opportunity to go to Jazz at Lincoln Center, let alone sing on the stage in Rose Hall. When I stepped foot onto that stage, and the band played the intro to 'Everyday I Have The Blues,' I was so close to tears. I just couldn't believe I was really there."
First place in the Jack Rudin Jazz Championship competition went to Michigan State University's College of Music. Third place winner was North Carolina Central University. Other college/university ensembles competing were: Brigham Young University, California State University Fullerton, Indiana University Jacobs School of Music, University of Kansas, University of Cincinnati College-Conservatory of Music, University of Nevada Las Vegas, and the University of North Carolina Greensboro. The Jack Rudin Championship honors the legacy of Jack Rudin, longtime supporter of Jazz at Lincoln Center and a founding supporter for the Essentially Ellington education program.
Reprinted by permission of Jersey Jazz Magazine. To read the full issue of Jersey Jazz, join the New Jersey Jazz Society at njjs.org.